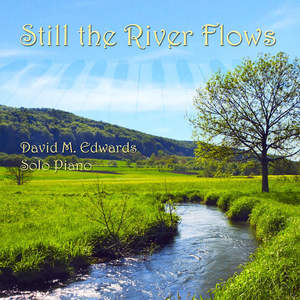 Now Available!
The latest album from David Edwards features 14 original solo piano pieces with emotions that range from exuberant joy to wistful melancholy to lasting love.
NEW! We've added a Store to the website where you can buy digital downloads, CDs and SHEET MUSIC!
I've just added the sheet music for "Christmas Morning" and two more pieces from "Still the River Flows." I'll add new sheet music as it becomes available.
Check out my new video, "Wistfully"! Visit my Video page for this and all my music videos.
I'm excited to share a couple of promotional shows featuring me talking with Chrissie and Steve Sheppard of One World Music Radio. The first is about the background and meaning of the songs on "Still the River Flows."
https://www.mixcloud.com/OWM/the-album-show-ft-david-m-edwards-still-the-river-flows/
The second show is about my own background and how my music evolved over the years.
https://www.mixcloud.com/OWM/artist-in-profile-david-m-edwards/
What the critics are saying about "Still the River Flows"!
Visit my Press page to read the full reviews.
"David M. Edwards and his creation Still the River Flows, is a manifestation of a timeless collection of beautiful solo piano compositions, ones that will linger for a long while within the musical memory. This is an album of the heart, performed by a musician who is clearly playing from it. Still the River Flows maybe the debut solo piano album from the artist, but it is eternal and played with the honesty and a sublime brilliance you would imagine from a seasoned master."
-Steve Sheppard, One World Music Radio
"Beautiful and evocative, Still the River Flows is a welcome contribution to personal and public library New Age solo piano collections, highly recommended."
-Midwest Book Review
"Still the River Flows" by David M. Edwards is a near perfect solo piano release. Each song is like a short story, capturing the essence of a beautiful view, conversation, or memory. Inspired is the word that comes to mind. Much like a gently flowing river, the album's powers are right there under the surface."
-BT Fasmer, New Age Music Guide
"Edwards found that writing solo piano music "straight from the heart" best expressed what he wanted to say through his music. The results are lovely! ... The album was mastered by Joe Bongiorno at his Piano Haven Studio, ensuring a beautiful piano sound. ... Still the River Flows is a great start to a new phase in David M. Edwards' music career!"
-Kathy Parsons, Mainly Piano
"Like a day so perfect I can hardly wait for the new dawn to arrive, this album makes me look forward to the composer's future releases. With "Still the River Flows, David Edwards has truly hit his stride. Highly recommended!"
-Pam Asbury, Enlightened Piano Radio
"Overall elegantly simple and straight from the heart (a concept that is perhaps best-captured on the piece 'Just a Simple Song') Still the River Flows is an especially appropriate album to put on in the morning to gently elevate the soul and illuminate the start of a new day!"
-Candace Michelle, Aural Awakenings
"There is what I would term a most stridently pleasant style of playing on this new straight from the heart solo piano album by David M. Edwards ... he plays with an exuberance of spirit not often found on albums that are in the New Age category ... it's very much like he's talking right to you through his keyboard ... I give David a MOST HIGHLY RECOMMENDED rating."
-Dick Metcalf, Contemporary Fusion Reviews
"With the release of Still the River Flows, David M. Edwards' majestic and expansive, multi-faceted debut album as a solo pianist, the veteran musician and composer opens a fresh door in his long, eclectic career – finding a beautiful and organic new musical flow..."Still the River Flows," intimate and heartfelt, sometimes jubiliant, oft times introspective and even haunting compositions lay a meaningful and magical foundation for the launch of a whole new career."
-Jonathan Widran, The JW Vibe
A Note About Social Media
I would love for you to follow me on social media. Here's my Full Disclosure:
My musician page on Facebook features posts limited to music and the arts with an emphasis, of course, on my own music. Good site to visit for music-related stuff and little else.
On Twitter, I tend to post more about current events and political issues. I have deeply held beliefs in this regard, so if you are interested in reading about them, Twitter is for you.
The photos I post on Instagram mostly feature some of the beauty of nature in the Rocky Mountains where I live. Some music related stuff here, but mostly pictures of places I visit ... and bunnies.
See you on the Interwebs!